Home » Web Portal
Web Portal Development Company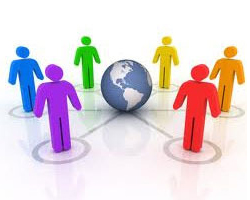 Enterprise Web Portal Development & Design is a multi-layered operation that needs the finest combination of knowledge & expertise to achieve unparalleled results. A well-designed web portal gives the owner or organization the brand value desired and access to World Wide Web users. Web Portal Development companies are dime a dozen, but many lack the proper expertise. Complete life cycle of web portal development services can help set up distribution and addition of information and design business processes via interrelated applications and services.
Professional Development Ideology
In Web Portal Development clients' needs and business goals must be understood and analysed to design a strategy for developing operation procedures for useful Portal implementation. The best Web Portal developers are able to assist their clients in sales management & promotional activities, along with marketing programs to ensure quality support. Web portal building services should also provide custom-built development solutions along with detailed logic for efficient performance in business and also technical scalability.
Standard practices followed in web portal development companies
Strategic evaluation of goals.
Business analysis keeping architecture design in mind.
User Interface planning for functionality check.
Emphasis on portal application programming.
Development of efficient database and integration.
Combining web portal development services along with third-party applications.
Integration of CRM, ERP, SCM within the portal.
Quality Assurance and Checking.
Performance optimization and tuning.
Setup, maintenance and support of portals.
There are various forms of web portal development found throughout the internet. Some of them are listed here:
B2B Portal Development: B2B portal development is an efficient & innovative service that includes web pages with attractive features and services to bring the website directly within the grasp of the target audience. By using this web portal development service, we can maximize the business revenue via savings from development cost by lowering the cost of customer acquisition. This will improve customer service that leads to increase in productivity.
B2C Portal Development
B2C portal development strategy includes an approach to incorporate all necessary attributes according to the newest B2C trends that will keep you a step ahead of your competitions. B2C portals are of very high quality and also cost-effective. It is an effective development strategy in achieving desired targets.
E-Commerce Portal Development
This type of web portal development is very widely used today deliver in small but proficient online stores to shopping carts in a shop-site or auctioning websites in professional e-commerce web portals. E-commerce website portal builder can be an efficient tool in accomplishing various goals in a simple, but secure affordable and scalable manner.
Enterprise Portal Development
Enterprise portals are web user-interfaces in enterprise applications, databases and systems. These enterprise portals can be used to help an organization in supplying information to public with upmost efficiency. It is the easiest process when comes to interact in business issues related to a particular industry or business or targeted segments having mass availability. Enterprise portal site builder can help in marketing company services and products to a worldwide audience.

Web portals are a great asset but only in proper hands. Making the right choice in web portal development company is the first step a customer must perform without any mistake. Always take consultations, check the credential of a company and take references while making a choice.

Technologies