Home » Mobile Application Development
Mobile Application Development for All Platform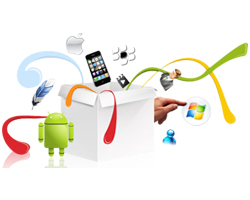 Equipped with skills in Apple's developer tools like Xcode, Cocoa Touch framework and Objective C, MetaWeb Technologies Informatics's iPhone
easy mobile app builder
ensure that they provide the best service. Leveraging the best of Apple's technologies and utilizing Cocoa's APIs, our iPhone Programmers create a tightly-integrated Xcode development experience that makes it easier to add animation, networking, appearance and behavior to apps. Only a few lines of coding will suffice.
Our iPhone Mobile apps Builder team is committed to meeting optimum time-to-market periods. Understanding the core processes of iPhone Native Mobile Application Development, offshore ipad application development, we build third-party applications that are as interactive and easy-to-use as native applications.
Our group of young trained professionals has varied experience. With intense focused on offering customers with the top quality technology suitable for them at the best price imaginable.
Our group of technocrats are proactively seek and work on cutting edge technologies so that you get the perfect solution to your problems. This also keeps us poised to address future needs of our customers as well.
MetaWeb Technologies offers end-to-end iPhone Application Development, iPad Application Development services at Delhi- from App concept to Mobile Application development to App marketing/promotion and management.
Mobile Application Development for Beginners
App Approval Process & App Promotion
Services offered by MetaWeb Technologies do not achieve fruition with just Offshore iPhone App Development and offshore ipad application development. We also guide clients & beginners in submitting the app to the Apple App store and getting it approved. We also work towards marketing and promoting the app to increase its visibility online after going through the rigors of app approval.
Our Offerings for iOS Mobile Application Development
iphone / Ipad eBooks & E-learning Application Development
iPhone Catalogue Application Development
iPhone / Ipad Business Application Development
iPhone / Ipad Enterprise Application Development
iPhone / iPad compatible Mobile Website Development
iPhone Web Service Integration
iPad Digital Album Development
iPad Tablet Application Development
iPhone Mobile App Development
iPhone Social networking Application Development & Integration
iPhoe GPS, Bluetooth, Push APNS, Google MAP integration
Porting iPhone App to iPad App
Porting iPhone App to iPad App
Android Application Development
Google has not changed its policy of providing open source software to all users over the years and its entry into mobile market is no different. While other service providers have tried to confine their clients from shifting, using locked sims and contracts, Google and its Android Application Development, have offered unlocked software and hardware mobile packages to its satisfied clients. Android-enabled handsets have a bright future and its open source origins reflect that Android Apps Development too will thrive as developers can easily establish new software to address specific needs.

Apart from developing new games and providing its users several services offered by Google, Android Apps Development has the potential to burst into specialized business development market as Fusion Informatics can now provide cost-effective software and a wide range of services at affordable rates to their clients. This may coerce many clients to shift from other platforms to Android just as many shifted when Google walked into the search engine market and virtually steamrolled it. Fusion Informatics has embarked executing projects on android app development platform since they are assured that soon newer versions would be introduced and this would fix up any bugs that may crop up during the development process.

Riding the wave of revolutionary software technology, Fusion Informatics offers specialized to all its clients. With the rich experience it has gained over the years, it is now comfortable working on various software application platforms including android mobile application development. Clients can get applications that meet their specific needs and aid them in communicating, supervising, creating and exchanging documents as well as information on a real-time basis while relying on a simple platform.
Fusion Informatics provides the following services based on the Android Mobile Apps Development platform:
Our Offerings for Android Mobile Applications Development
eBooks /e-Learning Application Development
Android Application Development
Android Mobile Apps Development
Android Catalogue Application Development
Android Business Application Development
Android Enterprise Application Development
Android compatible Mobile Website Development
Hire Android Mobile Apps developer
Android PC Application Development
Android Social networking Application & Integration
Android GPS, Bluetooth, Push APIs, Google MAP integration
Hire Android Application Developer
2.2 and 4.2 SDK Compatible Android Apps Development
Whenever Google introduces new products and services, it just overtakes the market and gets huge support owing to the fact that its products are for free. Android too has swept the mobile applications market as users can now benefit from this flexible platform by letting development experts such as Fusion Informatics develop application programs that can help enhance business efficiency in a cost-effective way.

Technologies