Home » Mobile Website Development
Mobile Website Development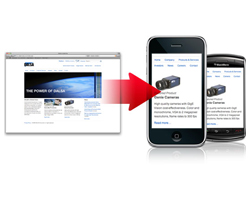 Excellent mobile websites ought to be accessible conveniently without any troubles to the mobile user. Development of mobile websites is a complex process, making a full featured website visible to maximum hand-held mobiles needs, high quality expertise and experience. Professional
mobile website builder
utilize various techniques, processes and technologies for the robust mobile application development. In the modern business environment mobile website users are rapidly increasing, simultaneously modern business, social, public and even various non-profit organizations like mobile websites to reach maximum masses.
Want to target only mobile users?
Your target customer segment is wide?
You want fuller visibility of your website on maximum popular mobiles?
Do you have customers that access your business website on their mobiles?
South Bay Website Design – SBWD is the company that offers complete
mobile website development
solutions to global clients. Company has developed certain standards to follow, according to modern demands of business, for the development of high quality mobile applications to solve the maximum problems of the mobile websites in the access, interface, and complete visibility. We offer standard mobile applications development, our high quality mobile websites offer following features:
Websites with high level compatibility with maximum mobile browsers available in the mobile market, as we do compatibility test with all popular mobile browsers available.
Our websites provide excellent browsing experience that includes minimum typing, less scrolling, and powerful architecture designing for the error-free functioning.
We offer balanced mobile website with appropriate number of graphics to take minimum uploading time. A good quality mobile website takes less uploading time.
Our mobile websites are designed SEO friendly for the better promotion on the internet.
South Bay Website Design – SBWD deems to build customized mobile website, for the clients belongs from various communities. Mobile websites can be business, social, entertaining or any other popular category, which needs to be technically sound. For the robust mobile website building our professional
mobile website builder
use WML (Wireless Mark-up Language) based on XML (Extensible Mark-up Language). To develop custom and dynamic mobile website content, we utilize ASP.NET Framework in the appropriate mark-up language like HTML 3.2, WML 1.1, and XHTML.

Technologies